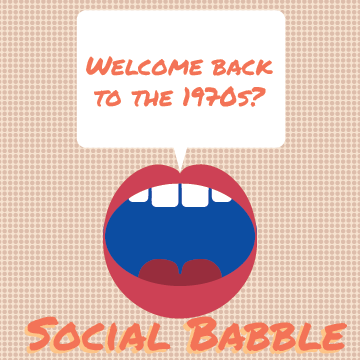 Welcome back to the 1970s?
Ringing in the new year, everyone has made the jokes leading up to it. We are entering the 1920s. It's the 20s. Get your flapper shoes on and have a bee's knees! Or… maybe we should be having piña coladas and putting on our wide leg pants.

While the 1920s jokes have been made over and over again, I've been seeing a reemergence of the 1970s in art, music, and fashion.

Let's start by taking the pantone color of the year. A classic navy blue. While this isn't a 70's color out right, looking at the color creation palettes from Pantone's website you can see hints of the 70's vibe. The dark browns, off color yellows, bright eye catching greens, and everything seems to have a relaxed vibe.

Turning to fashion – in the past few months I've purchased several pairs of pants, each one, without thinking about it until trying pieces on, has been wide legged. We see bell bottom-like pants, bell sleeves, and heavy denim making a full swing comeback.

Last is the music. A few songs recently have struck a chord with me, and both have felt very 70's influenced in the style. One that really caught me off guard was Foster the People's "Pick U Up." So much so, I didn't even recognize it was them at first. Even their music video gives visual details calling to the 70's and an era of disco. From the rollering skate dancing, to the colors, and even the girls' outfits for clubbing.

And while I do wish that a resurgence of the 20s style Art Deco was making its rounds this year, I guess I will have to live with wide legged pants, fun, bright, and mood soothing colors, and some funky beats going into 2020.