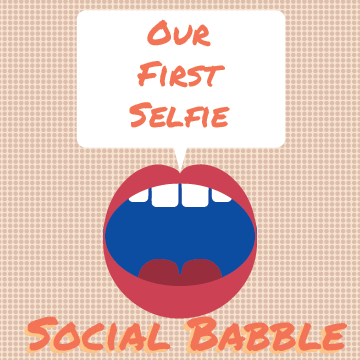 Our First Selfie
Do you remember the first selfie you took? I think I did mine with a Kodak disposable camera in middle school. Was it longer than that? I'm sure I have a photo with my mom somewhere, where she held the camera in front of us as we smiled, big cheesing grins.

When was your child's first selfie? Now I do not have children. But I know myself, and how I function pretty well. I can say with confidence that my child's first selfie will be within the first few weeks of their life, holding them, while taking a photo.

I have a friend who recently had a baby, and while trying to take a photo of him and his newborn daughter, their toddler jumped into the photo and make a goofy face.

So where did the selfie from from? The first "known" selfie is actually from 1839. A man by the name of Robert Cornelius took a daguerreotype of himself. Daguerreotypes are a slow process, so he was able to do all the pieces of taking the photo by himself. It seems in my mini research that the actually term came around in the early 2000's.

Then there are the types of selfies. I remember back in the mid 2000's when MySpace was the number one online platform, before Facebook even existed. There was a type of selfie, the "MySpace Pic" These photos were taken with bad flash always in a bathroom mirror or from a very high point of view downward. Once Facebook came around, the photos stopped being taken with the camera in view, and turned to having it just be a person. Instragm was born to put the selfie on a pedestal, with piece making money off just taking a photo with a product.

So do you remember your first selfie? How will that selfie evolve within the next 10 years as technology continues to advance?