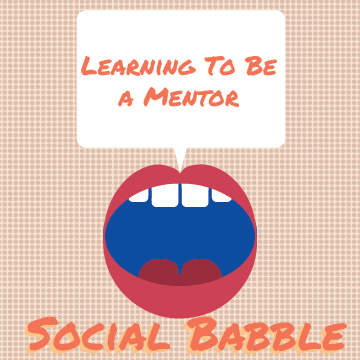 Learning To Be a Mentor
It's an odd thing as you get older to realize that one day you may be mentoring someone at a job. Now, I've had interns before at other jobs, college students who then became co-workers. I've even had college interns at my current job. However, it's a different feeling to have a high school student for the day as a shadow or an intern.

Just as I never thought I would be an authority figure on subject material at my jobs, I also never saw how I could mentor a student.

Last year I had a student shadow for full 8 weeks. I got to know them and grew to have a better understanding of how to approach the older students, engage them, and get them engaged in what my job was.

This year I've had a fast pace of several students in a row shadow me for a day each. Each one was very different, but each one was living and breathing design. It was a shock at first. These students were interested in the most mundane parts of my job and how design wasn't the only thing I did. I even was able to dole out a few tips and tricks that I knew about the programs they use in classes every day.

It has been a very different experience trying to showcase what my job is to students, connect with them, and keep them engaged in what some of the more mundane parts of my day. But every chance I get to see how excited they are, even if it's just a meeting that I am consulting on, is really rewarding. I wouldn't want to change anything and I am so excited to be able to share this experience with them.

It is very sad that now I do not get to share and work with my students anymore, I cannot wait until I get to see their works and smiling faces again.